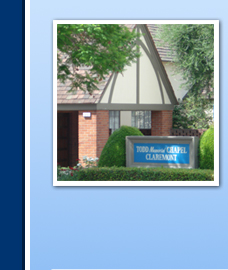 Welcome
To Todd Memorial Chapel
Since 1907 Todd Memorial Chapel has been an independent, family owned and operated funeral home serving the Pomona Valley. For five generations now, Todd Memorial Chapel has been dedicated to serving the needs of all faiths and serving all cemeteries. With our Pomona and Claremont Chapels available we are able to assist with the burial, entombment, cremation or out of state transportation of your families loved one.
Upcoming Services
ERIKA ALVARADO
Services Pomona Chapel
Wednesday Aug. 15th 11:00 a.m.
ROB DE CHAINE
Services Chaffey Community Museum of Art, Ontario Sunday Aug. 19th 5:00 p.m.
ROBBIE R. HOWARD
Graveside Service Riverside National Cemetery Friday Aug. 17th 11:31 a.m.
LAURA LEMUS
Vigil Rite Our Lady of Guadalupe Church, Chino Thursday Aug. 23rd 7:00 p.m.
Funeral Mass at the church
Friday Aug. 24th 10:00 a.m.
« More »