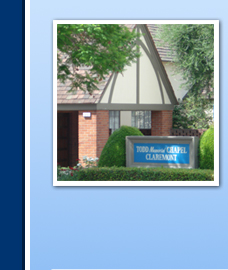 Welcome
To Todd Memorial Chapel
Since 1907 Todd Memorial Chapel has been an independent, family owned and operated funeral home serving the Pomona Valley. For five generations now, Todd Memorial Chapel has been dedicated to serving the needs of all faiths and serving all cemeteries. With our Pomona and Claremont Chapels available we are able to assist with the burial, entombment, cremation or out of state transportation of your families loved one.
Upcoming Services
Coronavirus (COVID-19) Update
Based on the guidelines of local public health officials, limiting both public and private gatherings, all funeral services, vigils, visitations and viewings are limited to a maximum of 10 people only.
All funeral arrangements are
to be made by phone.
Please feel free to call with any questions regarding our services.
909-622-1217
« More »