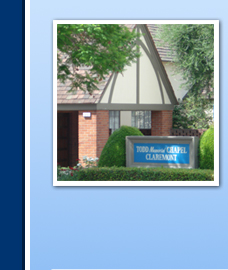 Welcome
To Todd Memorial Chapel
Since 1907 Todd Memorial Chapel has been an independent, family owned and operated funeral home serving the Pomona Valley. For five generations now, Todd Memorial Chapel has been dedicated to serving the needs of all faiths and serving all cemeteries. With our Pomona and Claremont Chapels available we are able to assist with the burial, entombment, cremation or out of state transportation of your families loved one.
Upcoming Services
EMILY O. BECKER
Private services will be held
LUCILE G. CARR
Services in the Assembly Room
at Mt. San Antonio Gardens, Pomona
Sunday Oct. 6th 1:00 p.m.
CAROLYN R. FANKHAUSER
Graveside Service Riverside National Cemetery, Staging Area #2,
Friday Oct. 4th 2:15 p.m.
JOHN FOREST HARMON
Celebration of Life Service
contact family for details
« More »